123-C All Season Place, 87/208 Wireless Road, Lumpini, Bangkok-10330, Kingdom of Thailand 02-252-1230 • E-mail: sec@p-g-a.org
---
PGA President
Pandit Vidya Dhar Sukul Brahman
Panditji pictured in Bangkok in May 2013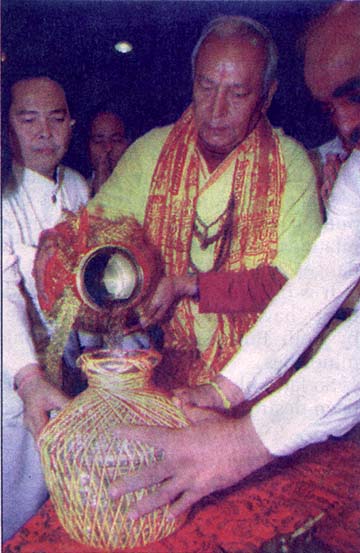 SACRED WATERS
Water from nine sacred rivers in India is transferred
into a new container by a Brahmin and members of the
Hindu Samaj after arrival at Don Muang airport. Local
Hindus plan to use the holy water in a ceremony to
mark His Majesty the King's 72nd birthday.

Pandit Vidyadharji was born in 1929 at Sri Vishnu Temple, Yannawa, Bangkok, Kingdom of Thailand. He is a Brahmin son of Pt. Kamala Kant Shukla and Mewati Devi.
In June 1936 his father sent him to Varanasi in India, for study in Sanskrit, Astrology, and Karmakand or Vidhi until his graduation with a BA. At Annpurna Rishikul Brahmacharya Ashram. Panditji dressed in orange monks robes as a brahmacari and he would sit on Kusha Grass, Palasa wood, and carry a water pot. He lived the austere life of tapasya until he returned to Thailand in July 1951.

He was an assistant to his father, a Vishnu Temple Priest, until returning to Varanasi in 1954 for further studies in special subjects at Sampurananant University, where he studied until graduating with his MA in 1955.

He married a Brahmin girl and returned to help his father in April 1955. Panditji's esteemed father passed away in 1961, and since then he was the Chief Brahman Priest in BangkokÕs Sri Vishnu temple for 18 years until 1981.

During that period in 1965-1966 being inspired by God he took a vow of silence and fasting. This vow was carried out for one full year, after which he received an honor from His Majesty King Rama IX. Panditji donated all the merit that he earned to the King and for the benefit of Thailand.

Panditji was representative for the Five Religion Seminar & Exhibition, and he passed the training of Religious Leadership Course arranged by the Social Care Sabha.

In 1966 the Raja Guru (Thai Royal Guru) and the top Indian Brahmin appointed him to be the Chief Hindu Priest of Thailand, a title he holds up to the present time.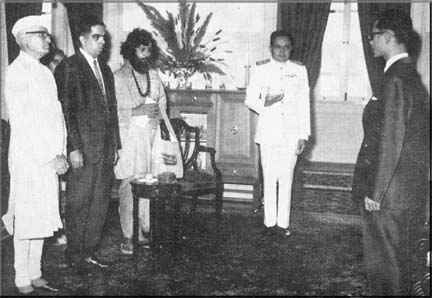 On February 22, B.E. 2509 at 11:00, Director-General of the Religious Affairs Department introduced Pundit Vidyadhar Sukul, Brahman chief of Vishnu temple, and others to offer holy blessing to His Majesty the King at Chitralada Palace on the occasion of Hindu sacrifice ceremony. On this occasion, His Majesty donated 1,100 baht to the chief Brahman. (Picture by Royal courtesy).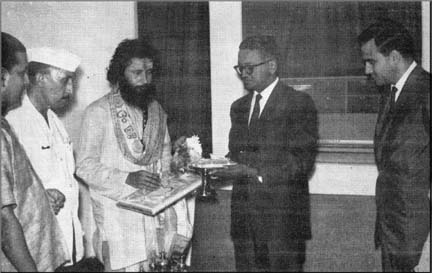 On February 23, B.E. 2509 at 11:00, Mr. K.V. Padmanabhan. The Royal Ambassador of Indian Embassy offered devouts to Pundit Vidyadhar Sukul. Chief brahman of Vishnu temple at the Embassy of India, Bangkok, when pundit and other representatives visited to offer holy blessing on the occasion of completion of the Mauna Vrat and the Manava Kalyan yagna which Pundit Sukul proposes to perform next. (Picture from the Embassy of India).
---
The Sanskrit name for the PGA was composed by HONORARY PATRON Prof. Dr. Satya Vrat Shastri, Padma Shri